Tumbulgum Tavern

Our Story

A little piece
of History

If you are heading to the Tweed Valley in northern NSW then don't miss a day at the historic Tumbulgum Tavern. Tumbulgum is the perfect place for fishing, water skiing, and visiting the heritage listed and character filled Tumbulgum Pub. The "Tumby Pub" in the Tweed Valley has great tucker, a magnificent heritage building and a perfect location on the Tweed River.

Bring the Family for a swim, a meal and fun in the playground. Tumbulgum is a picturesque riverside village with views over the cane fields and hills. It is conveniently located just off the Tweed Valley Way, north-east of Murwillumbah.

It is a popular area where locals and tourists come for a riverside picnic or stroll along the heritage shop fronts. The public boat ramp provides good access for all types of boats, and fuel and bait are available.

Originally called the "Tweed Junction", or just "The Junction", the name was changed in 1880 to the aboriginal derivation of "Tumbulgum" (proun. tum-BULgim). The Tumbulgum Tavern was the first Pub in the area and licensed since 1887.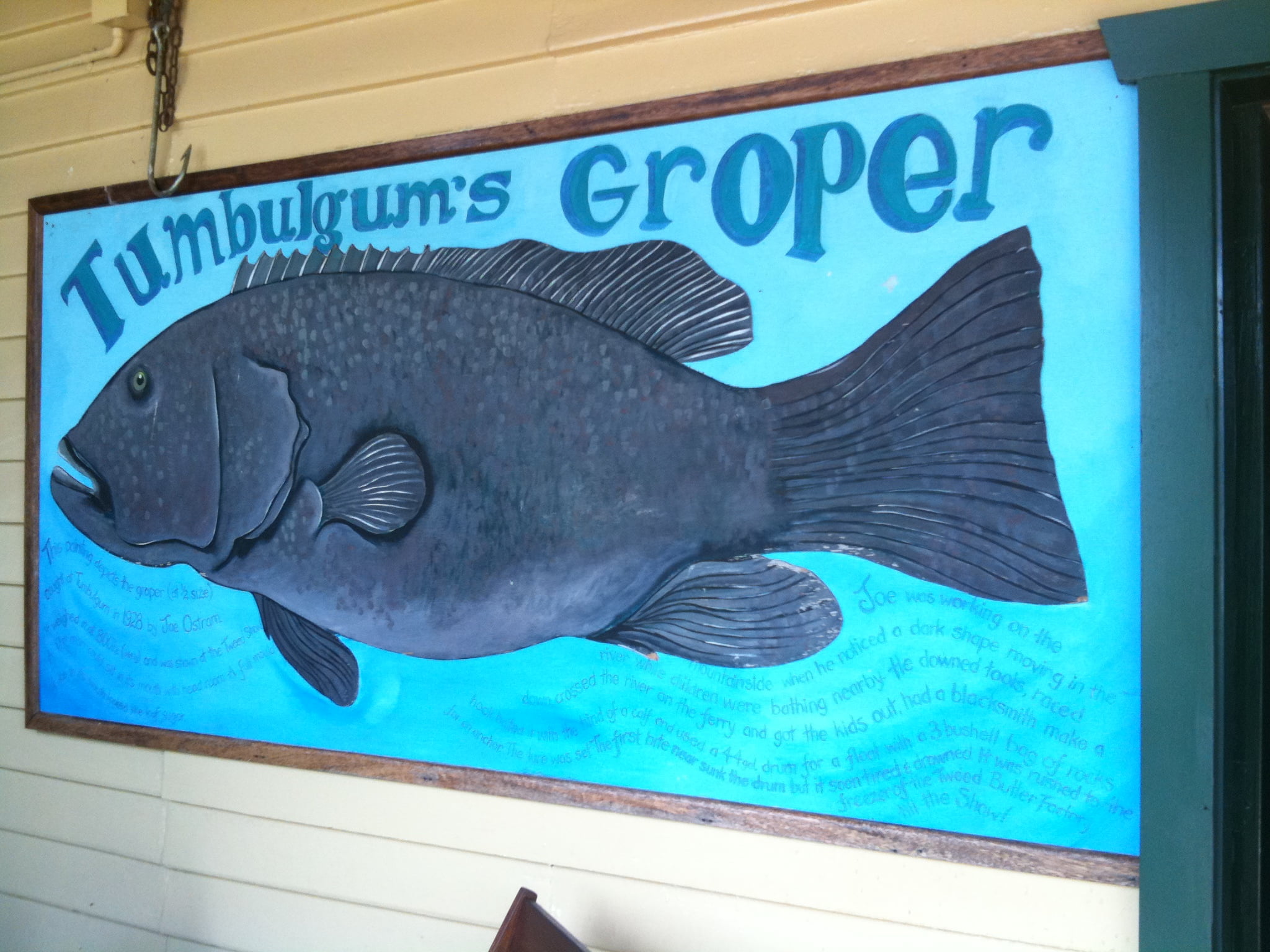 Tumby Groper

This painting depicts the Groper at 1/2 size caught at Tumbulgum in 1828 by Joe Ostram. It weighed in at 800 pounds and was shown at the Tweed Show. A 17 stone man could sit in its mouth with head room. A full mould of ice in its gut looked like loaf sugar.

Joe was working on the Banana's on the mountain when he noticed a big dark shape moving in the river where children were bathing nearby. So he downed tools and raced across the river on the ferry and got the kids out.
He had the blacksmith make this hook, baited it with the hind of a calf, with a 44 gallon drum for a float and a bushell bag of rocks for an anchor.

The lure was set. The first bite near sunk the drum but it soon tired and drowned from no ventilation. It was rushed to the freezer of the Tweed Butter factory till the Show.